Our 4 or 6 hour course can help instruct your drivers on the techniques, skills and attitude that are required to safely operate fleet and other passenger vehicles. Increase safety Lower your risk The course uses a blended learning approach which includes: hands-on practice using our virtual reality driving simulator that complements the classroom instruction.
LEARNING OBJECTIVES INCLUDE:
Sharing the road
Being a predictable driver
Adjusting to conditions
Risk management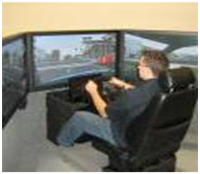 ONLINE LEARNING
Complement in-class learning
Refresh driver knowledge
Instant results and grading
Discreet login and password
Available modules include:

Safe Backing
Speed Management
Eye Lead Time and Scanning
Distracted Driving
Adverse Conditions
Fuel Conservation
Navigating Intersections
Risky Behaviours
INTERACTIVE LEARNING
Customizable course, specific to our fleet and vehicles
Measurable classroom performance
Refresh drivers on cooperative driving with our 6 Star Approach
SIMULATION BASED TRAINING
Hands-on practice to complement the in-class instruction
Lessons created and customized based on your fleet needs
COURSE COMPARISON & PRICING
Program
Description
Audience
Pricing
4 Hour
This program places an emphasis on sharing the road and being proactive, while keeping in mind the correlation between driver behaviours and safe driving.

In-vehicle evaluation available.
Recurrent driver training used by fleets for yearly driver training.

New drivers who lack commercial experience.
Pricing available on request.
6 Hour
This program covers the same topics and scenarios as the 8 hour program, but focuses on the individual's risky behaviours and includes a more elaborate evaluation of the driver's performance.

In-vehicle evaluation available.
Recurrent driver training required for insurance purposes for tax/limo companies.

New drivers who lack commercial experience.
One-on-one $400 +HST per person.
Train up to 20 drivers per day with our Mobile Simulator Utilize the mobility of DriveWise training to maximize the learning potential of our drivers.